Painting is a favorite hobby in our house. Unfortunately, cleaning up messes is not a favorite hobby of mine. This is why we are huge fans of Thin Stix and we were so excited to receive their new
Thin Stix Creativity Pack
from
The Pencil Grip, Inc
. to review recently. This is a company that we have been lucky enough to work with before and we couldn't wait to see what this review product would include.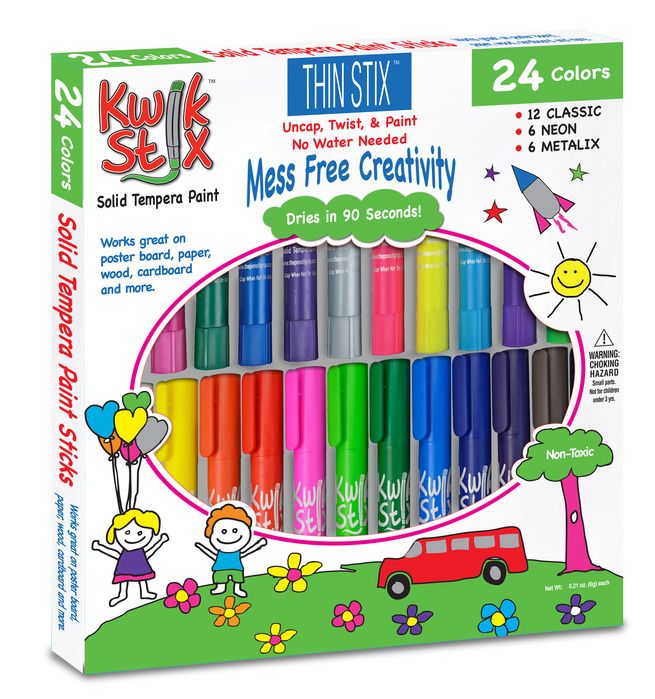 Thin Stix
are Solid Tempura Paint sticks that come in many colors. We received a 24 pack of Thin Stix which includes 12 assorted, 6 neon, and 6 Metallix colors. There is such a variety of colors in this pack that we had colors for every project we wanted to work on. They are about the size of a thick marker which is an easy size for little hands to hold. They are easy to open and easy to use. You just pull off the cap, twist the paint up a little, and paint. They feature a fast drying formula that allows them to dry in just 90 seconds with a paint-like finish. You can use them on paper, poster board, cardboard, wood, and canvas. You can even layer the colors on top of each other with our creating a mess because they dry so quickly. One of our favorite things about these Thin Stix is that you can get them into the little places, nooks, and crannies of projects.
Little Miss made me this drawing the day our Thin Stix arrived. She loved the neons on paper.
Thin Stix on a wood sign. Little Miss decorated this sign using only the Thin Stix.
Little Miss had no clue that these were coming in the mail for us to use, but as soon as she opened the package, she couldn't believe what she was holding. She was very excited to get her hands on them and ran to grab some paper to try them out. She was super excited to finally have the Thin Stix in ALL the colors she wanted. She has all the colors of the regular Kwik Stix, but she didn't have her favorite neon and Metallix colors in Thin Stix yet. Let me tell you she did the happy dance to have these new colors. She was anxious to start drawing fine lines and write with her favorite colors of these paint markers.
My pumpkin has been on my porch in the weather and the paint is as bright as the day I painted it.
I tried out the Thin Stix on my pumpkin this year. I wanted to do something to my pumpkin that would decorate it and make it last longer than normal. The Thin Stix glided on and dried on my pumpkin just as well as they do on paper. I was blown away by this because I thought they would go on the pumpkin, but I wasn't sure they would dry and stay on. The Thin Stix didn''t let me down though and have stayed on my pumpkin perfectly even in wet conditions. I also tried them on some wood ornaments. Little Miss drew on cardstock, regular printer paper,and a wood sign. No matter what we try them on, the Thin Stix go on super smooth and dry quickly. This let us layer colors for our projects when we wanted to. Like before, Little Miss loved that she could write words and have them be legible with the Thin Stix and draw thin lines. She could use the Thin Stix flat to get a wide line or use them tipped to the side to make a finer line. She loved being able to do fine work with the Thin Stix and get in the little nooks of the projects. Little Miss love the Thin Stix and she is so beyond happy that her much loved neon colors are now thin. I loved the Metallix colors along with the primary colors. We both really loved the variety of colors in the Thin Stix Creativity Pack. As always we love that you can use this paint on so many different mediums. My VERY favorite part of the Thin Stix is the no mess painting. We put the cap back on and they are ready to put away.
I used only Thin Stix Metallix on this wood ornament.
I layered neon blue and silver Metallix for this ornament.
We layered several colors for this Christmas tree wood ornament.
We DEFINITELY recommend the
Thin Stix Creativity Pack
from The Pencil Grip, Inc. They are recommended for ages 3 and up. They would be great to give as a gift. The Pencil Grip, Inc. also has several other products they offer. You can find out more about all they have to offer on their website, Facebook, Twitter, or Pinterest. You can buy
Thin Stix Creativity Pack
we received from .BJ's Wholesale Club for a discounted price.
Now for the really good news!!! The Pencil Grip, Inc. has graciously offered to provide a Thin Stix Creativity Pack to one lucky reader of this post (U.S. Residents only please). Enter using the Giveaway Tools widget below. This giveaway runs from now through Friday, November 10, 2017 at 11:59 pm EST. Good Luck!!!!